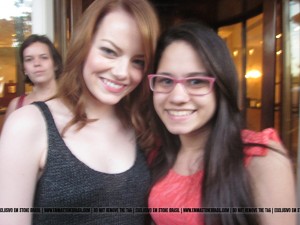 First we would like to thank Emma and her mother (Krista), the wonderful team of Sony and the hotel staff. You are awesome and made our weekend the best ever!
For those unaware, Emma Stone came to Brazil to promote the film The Amazing Spider Man, who plays student Gwen Stacy.
Emma arrived in Brazil on Saturday (4) in the morning and went to his hotel in Copacabana. Lunch at the hotel and about 19:30, went out to dinner in Santa Tereza and was super helpful when we asked to speak to her. We spent all that to get to her and we were very well treated by their own team. We got autographs, took pictures, chatted a bit and deliver a piece of paper with the name and twitter EmSBR, this little piece we saw her smiling and looking after saving carefully, thanking us for everything. Isa, our staff has not had the opportunity to come to Rio and Emma was super helpful writing "Wish you were here" in English got her autograph.
The next day (Sunday, 5), Emma had several interviews to give, but before he went to pool its coverage and enjoyed swimming and taking sun. The interviews lasted a few hours and late afternoon she and the producers of The Amazing Spider Man posed for photos on the hotel balcony, which gave us the opportunity to see her again and express our happiness for it. Emma once again helpful, said that he loved us and waved several times. It was magical, because the fans were only four people. That same day, were presented to Krista, mother of Emma, ​​and she recognized us asking if the girls were little piece of the site and said that Emma showed the paper to her. The last time we saw her, we sent a letter to Emma, ​​and thanks to all that we feel we have received by it as well, Krista said she would deliver her at the same time. At night, Emma went out to dinner with the producers and her mother at a restaurant near the hotel.
On June 6, the day of the event TASM in Leblon, Emma also gave some interviews in the hotel and went to the theater where the event happened. In the event, where the press were present and some fans (and we, of course), was shown an exclusive trailer and eight minutes of the film, which opens on July 3 in Brazil. Between the trailer and preview the movie, we live guests from other events (Andrew Garfield in NY, Marc Webb in Los Angeles and Rhys Ifans in London) answering questions. Emma also answered a few and saw the trailer and preview in the same room as us. After the event, she went to the airport, which goes to the United States.
Curiosity: the 3D effects of the trailer are ready, but the film still to finish.
Source