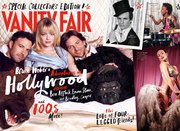 It's one for the history books—more than 75 different stars were photographed for Vanity Fair's 19th Hollywood Portfolio, shot by Bruce Weber as the famed photographer's definitive tribute to the town. Enfolding Tom Hanks and Halle Berry, Amy Adams and Jonah Hill, Selena Gomez and Alan Arkin, Weber's vision called for a variety of talent—of both the two- and four-legged variety.
The cover: Ben Affleck and Bradley Cooper (impishly smiling in a bear suit and a gorilla costume, respectively) flank America's sweetheart Emma Stone.
Oscar winner Affleck cemented his status as Hollywood's in-demand director with Argo, which received seven Academy Award nominations, including best picture, while Cooper's Silver Linings Playbook received eight nominations, including Cooper's first for best actor. Youngest-ever best-actress nominee Quvenzhané Wallis also appears on the cover gatefold along with Olivia Wilde, Kerry Washington, and Eddie Redmayne.
Behind the Scenes: The Making of Bruce Weber's Hollywood Cover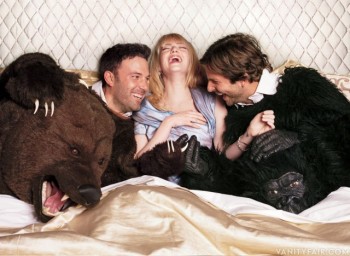 Ben Affleck, Emma Stone, and Bradley Cooper were chosen as our cover subjects, based on their impressive, individual accomplishments over the past year.
Affleck had triumphed with Argo, winning an Oscar nomination for best picture. Cooper had definitively established his acting magic in Silver Linings Playbook, which was nominated for eight Academy Awards, including his own for best actor.
And Emma Stone had comfortably sustained her staying power as America's sweetheart with The Amazing Spider-Man.
Weber shot the cover photo at a Beverly Hills mansion steeped in cinematic lore. In The Godfather (1972), if you remember, it is the house where Robert Duvall, the consigliere to the Corleone family, arranges to have the recalcitrant movie producer who lives there wake up with his prize horse's head in his bed.